Handy Backup 3.9 Help : User Interface
Settings : General Settings
---
Here you can view and modify some general program settings.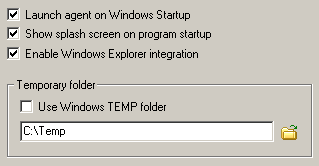 Launch agent on Windows Startup: Launches Handy Backup 3.9 agent on Windows startup.
Show splash screen on program startup: Shows Handy Backup splash screen on program startup.
Enable Windows Explorer integration: Enables Windows Shell Integration by adding Handy Backup commands to the standard Windows context menu.
Temporary folder: Enables to specify where the TEMP directory will be located. Handy Backup creates temporary files in case of compression, encryption and backup onto CD-R/W discs. If there is not enough free space in TEMP folder where such files are created, Handy Backup operations may fail. In this case, you should select another location for Handy Backup TEMP files.
Use Windows TEMP folder: If this optiion is checked, the program will place its temporary files in the standard Windows TEMP folder (the folder path will be displayed in the box below). Otherwise, you can select another location for the temporary files. Uncheck the option and choose new temporary folder.