Handy Backup is a package designed to make duplicates of files you have stored on your PC. It can save the replicants to an array of media and be scheduled to perform the operations at various times.
Installation is the standard procedure, during this procedure you can create Desktop, Shortcut and Quicklaunch icons.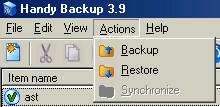 To perform a backup is a fairly simple procedure - select the files/folders you wish to backup, select the destination folder you wish the backup copies to be saved in and viola you are ready to backup.
"simplifies matters immensely"
One good point of Handy Backup is that all the files/folders in a backup operation are grouped together under one name - called an item, in this manner you work with the item name rather than a whole host of filenames which simplifies matters immensely.
You may add files and or folders to a backup item, however, whereas you may add multiple files at once you may only add one folder at time to the item which can slow things down a little. Bearing this in mind you may add the entire contents of a folder and then remove unwanted items by checking an item.
"unsupervised backups"
The destination of the backed up files/folders can either be local/LAN directory, FTP server or a writeable CD, so basically you have all your options covered as to where your files/folders are saved to.
Setting a local/LAN directory simply requires you to specify which folder that is, FTP server requires Host, Username, password and folder on the Host server. The CD-R/RW has some good options (enable spanning between disks of large files and the ability to erase the CD before the backup starts).
"extremely useful"
Further options allow you to do a full back or incremental - full backup allows you to save all the files in the backup item name regardless whereas an incremental backup only resaves files which have changed since the last backup - this incremental type of backup is extremely useful should you have several hundred files, files which are abnormally large or have a limited amount of time to perform the backup.
"Blowfish encryption"
Another neat function is to be able to save all your backed up files/folders into either one compressed file or to compress each file that is being backed up and to encrypt with the Blowfish encryption algorithm. Very useful should you be backing up sensitive data to an FTP server.
Being able to schedule backups is well taken care of by Handy Backup - you may set it to backup once per day, per week or even per month and there is also the option for you to set your own custom schedule.
Handy Backup offers you the option to run missed schedules, however I don't really see the need for this as long as once the interruption to regular backing up has been restored a back up is performed.
A very useful option is the ability to run a backup prior to logging off windows - this allows you to feel secure in the knowledge that once you shut your PC down your data is safe.
Restoring
Restoring your files is a simple procedure of clicking on the item group you want to restore and from the menu selecting:-
Actions >> Restore
Handy Backup takes care of the rest - it's that easy.
Misc. Features.
Handy Backup is also available from the Explorer context menu - but all that seemed to do was to fire up Handy Backup. Not quite sure if this is absolutely essential.
Should a problem occur with the software causing it to crash whilst you are using it, Handy Backup generates a crash report which you send to the support team. A nice touch.

Help
Due to the simplistic nature of Handy Backup the help file is easy to follow - features index,contents and search functions.
The help file is abundant with images which helps out no end, however it takes on the form of telling you how to do a particular function but does not explain why you are doing it.
Online Tutorials
We could not find any online tutorials and to be honest we didn't really expect to - the title is so easy to use.
Registration
Registration is performed by connecting to a remote server, however if your PC is not connected to the internet you will need to register by email.
Uninstalling
Handy Backup has 2 methods of uninstalling Automatic and custom - I think most people use the automatic uninstall option, however, items created during program execution can be left behind.
Summary
All in all Handy Backup is a very useful title to have in your software arsenal - it combines ease of use with versatility to produce a really flexible package.
Backing up, Restoring and Synchronizing can be achieved very quickly and with little experience of the package.

Handy Backup is suitable for users of all levels as there is practically no learning curve - the wizards smoothly guide you through all aspects of the function without leaving you wondering what you have just done and why you did it.

The GUI (Graphical User Interface) is very clean, sharp and simple - filled with professional, sharp images, upon loading it up for the first time you are not left thinking "oh my - this looks complicated".

Handy Backup is certainly a force to be reckoned with and it most certainly gets our thumbs up.
Well Done.
Peter Jackson - UKwares.com
http://www.ukwares.com/handybackup