Simtel

Simtel Spotlight - Where the Hottest Programs SHINE!
No question hard drives are a lot more dependable these days, but they still spin around at a high rate of speed and those read/write arms are jumping all around; the old saying "it's not if a hard drive is going to die, it's when" still applies. Nor am I immune from my own follies. Even with a recycle bin to bail me out I still manage to delete files. And then there's the ultimate; I make a change, it doesn't work and I don't have the file that worked. Ouch.
I really need a supervisor to watch my every move but that wouldn't solve the eventual crashed hard drive. I found my salvation in good backups.
I've tried dozens of backup programs and I found that not only did they need to be good but they needed to be easy; if they weren't I wouldn't use them and I'd end up where I started with no backup when I needed it.
Handy Backup is just that; handy. It allows me to backup to another computer via ftp or to another box on my LAN or CD-RW. I use both as I do run a LAN and have an attached machine with a big hard drive, but mostly I use CD-RW.
Please click on any image to enlarge it.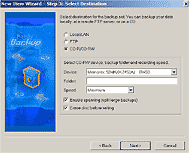 Setup is so easy that it's almost fun, simply follow the wizard. After selecting the location select the drives/files you want to include in the backup job. Options abound; you can ZIP the files to save space, secure them using 128 bit encryption, overwrite the data already on the CD, span disks and set the job up to run on a regular schedule.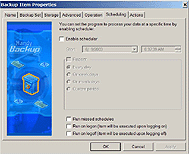 I have two jobs defined; one is scheduled, the other is on-demand. If I feel the need for a "checkpoint" on the folders where I keep my working files I just click it and it's off and running.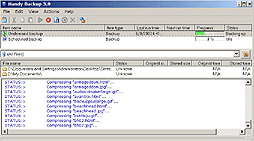 Should your needs change, such as a new folder you want to back up you can easily access the stored job and change any of the parameters.
There are plug-ins available for backing up special data; Outlook and Outlook Express files, a Registry plug-in for backing up the registry and an ICQ plug-in for backing up ICQ contacts and settings.
If you're not currently backing up your data start now or if you don't like your current backup program give Handy Backup a try; you won't find a better engineered program that suits both novices and experts.