Handy Backup 3.9 Help
How To Operate With Data
Handy Backup works with data organized in items. To backup or restore your data, you need to create an item defining which files to operate with, where to transfer them, and when to update the backup copy.
You can easily create a new item with the help of Handy Backup New Item Wizard: press
"New Item" button on the program toolbar and follow the instructions of the Wizard.
On the first step you specify item name name and its type.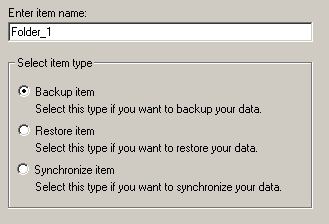 Depending on a selected item type the Wizard will create: